Lorelei: Heine translations from 'Shadowtime'
Henry Hills is in the process of making a film in and around the letter "H" — and for that he is using my homophonic translation of Harry (Heinrich) Heine's "Die Lorelei," with images of the The Bronx Lorelei Foundation. I recorded a reading of the poem for him last week, along with the rest of my libretto for "Seven Tableaux Vivants Representing the Angel of History as Melancholia," Scene 6 of Brian Ferneyough's opera, Shadowtime.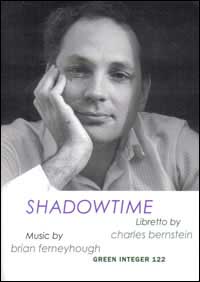 While Shadowtime's protagnonist Walter Benjamin rejected Heine's version of Romanticism, he nonetheless may have been distantly related to him (as well as to it). There have been over twenty-five musical settings of Heine's poem. The best known are the folkloric version by Friedrich Silcher and the art song version by Franz Liszt. Mark Twain wrote about the Lorelei legend in A Tramp Abroad and did his own translation of Heine's poem — "She combs with a comb that is golden, / And sings a weird refrain / That steeps in a deadly enchantment / The list'ner's ravished brain." One of Sylvia Plath's most haunting poems, "Lorelei," involves a radical transformation of the psychic and gender dynamics of Heine's poem — "Sisters, your song / Bears a burden too weighty / For the whorled ear's listening." Both the Gershwins and The Pogues wrote Lorelei "covers." The legend usually begins with a girl, cruelly abandoned by her lover, throwing herself into the Rhine. By some magic, beyond rational powers of understanding, the drowned maiden is reborn as a Siren (or mermaid-like creature), who, in the forever after of the song, lures fishermen to their ruin on the Lorelei cliff, to the background music of the crash of the waves against the rocks.
1. Laurel's Eyes
MP3
from the CD with Nicolas Hodges
Each night is soul-bedeviled
As each frayed ship rigs sail
In journey's end sight falters
Where journey never ends
A draught so thin it's bitter
A ruin like the Rhine
That rips its fleece in kilter
Abandoned to its shine
The shone star yearns for light
Door opens, wonder barred
Ire's golden gate gets blistered
Seek comet, err in folded heart
Seek comet, err in folded heart
And drink a daft farewell
That has its blunder tendered
In quivering, feathered tar
Sifted in climate's sieve
Engrafts its festooned way
As spark ignites the weave
And shouts ordain the play
This globe spins on, verse lingers
A sail without a sigh
A song without a singer
Laurel's veil, Laurel's eyes
Heine's "Die Lorelei" (1823):
Ich weiß nicht, was soll es bedeuten,
Daß ich so traurig bin;
Ein Märchen aus alten Zeiten,
Das kommt mir nicht aus dem Sinn.
Die Luft ist kühl und es dunkelt,
Und ruhig fließt der Rhein;
Der Gipfel des Berges funkelt
Im Abendsonnenschein.
Die schönste Jungfrau sitzet
Dort oben wunderbar;
Ihr goldnes Geschmeide blitzet,
Sie kämmt ihr goldenes Haar.
Sie kämmt es mit goldenem Kamme
Und singt ein Lied dabei;
Das hat eine wundersame,
Gewaltige Melodei.
Den Schiffer im kleinen Schiffe
Ergreift es mit wildem Weh;
Er schaut nicht die Felsenriffe,
Er schaut nur hinauf in die Höh.
Ich glaube, die Wellen verschlingen
Am Ende Schiffer und Kahn;
Und das hat mit ihrem Singen
Die Lorelei getan.
4. After Heine:
MP3
from the CD with Nicolas Hodges

Capital is the fool's gold
Labor is the folded haze
It's dark now, I'm sleeping
Work's made me tired
Over my heart grows a web
Which traps the weary Nightingale
She sings of only history
I hear it even in sleep
(my translation of)
Der Tod, das ist die kühle Nacht
MP3
Death is the cool Night
Life the muggy Day
It's dark already, I'm sleepy
Day's made me tired
Over my bed grows a Tree
Where sings the young Nightingale;
She sings of only Love
I hear it even in Dream
Wexler Studio, KWH, Penn, Oct. 6, 2015
Complete scene (10:59): MP3

Other cuts from the recording:
2. Tensions: MP3
3. Hashish in Marseilles: MP3
5. One-and-a-Half Truths: MP3
6. Can'ts: MP3
7. Madame Moiselle …: MP3
Shadowtime (the libretto) is available from Green Interger. The CD is available on YouTube, Spotify, and from other music sellers. Reviewes and documents relating to the opera are at the EPC page.