In audio practice IV
As mentioned before, I studied with Allen Ginsberg at Naropa in 1986. He was my teacher and friend from then onward. There's no question my sense that poetry could (if not should) be an electrified-multimedia-collaborative performance came from Ginsberg. With so many years of practice, he had great stage presence was extremely focused when it came to using language and a microphone. His energy was seemingly always in demand, from one quarter or another. His literary life transpired around-the-clock, with endless requests for interviews, and he was amazingly responsive to those who made contact with him. I learned much from Ginsberg (particularly about tolerance), and have a few memorable experiences that involve the audio/recording realm.
For a decade, I pursued any chance to be in his company and visited with him on many occasions in Colorado, New York, and California. The first time I ever saw him in a studio environment was at a 1986 TV/videotaping session in Boulder, where I'd been instructed to meet up with him and Anne Waldman prior to a performance the three of us did at a club in Denver (Waldman and I were Ginsberg's backup vocalists on "Birdbrain" that night). I don't have notes regarding the production or poems being recorded, but documented the occasion with a camera (see above), which is another trick I learned from Allen.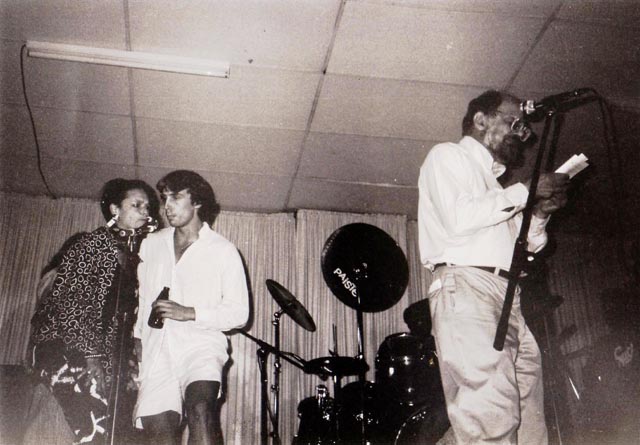 The most informative and extraordinary experience I had with Ginsberg with regard to audio production transpired on August 20, 1987. My friend Chris Ide and I drove to New York, where we'd be staying in Ginsberg's living room on E. 12th St. At the time, Ginsberg was embroiled in intensive recording sessions for his CD The Lion for Real (Great Jones, 1989). When we arrived he reported he'd only had an hour of sleep the previous night, and invited Ide and I to come along with him that evening as "poetry roadies". The three of us took a taxi up to A&R Studios on W. 48th St.—the exact location where Bob Dylan recorded Blood on the Tracks. Hal Willner's liner notes tell the interesting tale of how this project came to be, and how its content and participants were assembled. The musicians who played that night—Steve Swallow, Bill Frisell, Marc Ribot, Ralph Carney, Arto Lindsay, Gary Windo, Michael Blair—were extraordinary accompanists, and Willner was (is) an amazing choreographer whose meticulous process (and ability to communicate with the engineer, Joe Ferla) led to a tight atmosphere that brought out the best in everyone. According to my journal (fortunately I took three pages of notes, as well as a roll of film), the group recorded "The Lion for Real", "The Shrouded Stranger", "Pull My Daisy", "Cleveland, The Flats", and "Kral Majales" that night—a session concluding long after midnight. This was recording on a completely other, commercial-world level. No doubt brought on by the financial aspects of such an undertaking, there was a seriousness and professionalism to the occasion that was rare and unforgettable. Being largely ignorant of what actually happens in a studio environment at the time, I was impressed—and though nothing I have done resembles such a scale of production, the experience made a mark (though I failed to credit whoever said, "they oughta sell condoms with this album"). And considering the fact that before we went to the studio I was having a long talk with Harry Smith about Bernice Abbott, his recording projects on the "ethnic neighborhoods street corners of Manhattan", and looking at his watercolor paintings, it was indeed an outrageous day all around!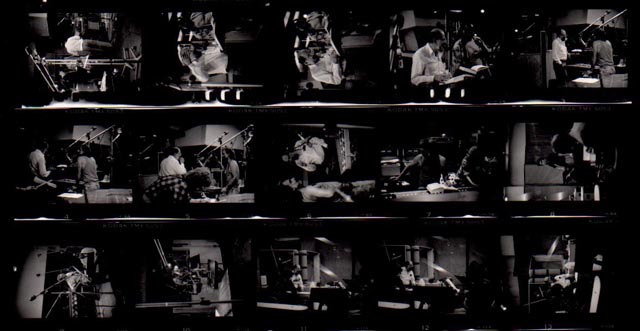 I produced recordings of Ginsberg a few times, under much less complex circumstances. When he performed at the December 1991 We Press/Gargoyle Mechnique benefit in New York—where he read then recently unearthed Kerouac poems—all Tim Sweet (who was ace behind the board at Gargoyle Mechnique Laboratory) needed to do, beyond setting vocal EQ (equalization) levels, was press the record button on the DAT deck. I also made an ambient recording of the Poetry Project's 1993 Valentine's Day Reading, where Ginsberg reads a poem, and he is part of a late-night conversation and tuning of Campion I captured in Boulder in summer of 1987. A performance of his poem "White Shroud" with a string quartet was included in the We Magazine 11 cassette, but I did not record it [Note: these events are documented in the SoundBox Archive].
In April 1994, I drove down to Columbia Greene Community College (Hudson, NY) with SUNY-Albany comrades Katie Yates and Nancy Dunlop in Katie's VW van to hear Ginsberg speak and perform. The seminar session took place in a library, with 40 or 50 people in attendance. Ginsberg spoke and answered questions from the audience; I recorded to cassette using a PZM (ambient) microphone [the recording is available via link above]. David Matlin and Nancy provided the most interesting points of conversation, though Ginsberg felt some of Matlin's questions about Charles Olson were too obscure for this audience. Afterwards, we all drove up to Olana (Frederick Church's home above the river). It was nearing dark, chilly outside, and strikingly beautiful. Others, including some of the seminar goers, were up there and of course Ginsberg took a keen interest in a teenage boy who had been in the audience. While they were sitting on one of the gnarled wood benches next to the house, Ginsberg peppered the boy with questions, asking him what he liked to do, if he partied, and so on; he asked him if he took drugs, and the teenager said yes. Ginsberg asked for particulars, and then told the kid that it was okay to use drugs, "but not too much". We went back to the school as it neared the performance time. I set up my DAT gear (with Ginsberg's permission), fortunately bringing a long enough XLR cable so as to remain unobtrusive, sit in the front row and enjoy. A large crowd of many types of upstate New Yorkers assembled and mingled. A local bookstore set up a booth to sell Ginsberg's new title, Cosmopolitan Greetings. A tremendous performance of singing and poetry (one hundred minutes on stage), spanning all periods of his work, and the tape came out perfectly [the full recording is available here], and one selection, "Hum Bom" was released on the Kenning 12 CD]. Afterwards, Ginsberg sat at a table, greeted people and signed autographs for at least an hour and a half.
The well-annotated audio-visual portion of Ginsberg's archive at Stanford University contains thousands of audiocassettes, reel-to-reel tapes, videotapes, and recordings in other media (including some labeled "Restricted"). Naropa's Poetics Audio Archive contains many recordings, and it's reasonable to presume that many of his public programs were taped and exist in archives scattered across the land. Ginsberg is no doubt one of the most recorded poets who ever lived and it pleases me to contribute documentation of his presence—as I continue doing the same for other voices I encounter.